The year was 1990 and I was 18!

The Air Jordan V was released with a lot of changes to the Michael and the Bulls. They had a new coach in Phil Jackson and were determined to advance further in the NBA playoffs. The shoes itself was ahead of its time with the design, prominent amongst it was the grey reflective tongue and the clear soles. MJ also went on to record his highest scoring game - 69 pts against his favorite 'kill' opponent, the Cleveland Cavaliers.

Personally, the Jordan V's marked a few 'milestones' in my life; I was finally of legal age! I also traveled Asia on my own for the first time, beating up my white/black-fire red V's in the process. Also, marking my 'independence', I bought my first ever Jordan's with my own money, the striking Grape's colorway.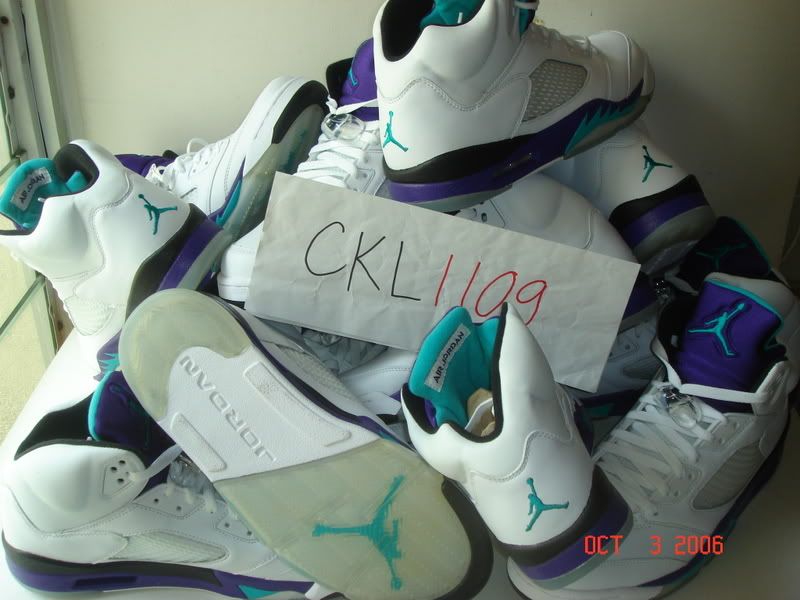 After the Jordan IV onslaught during the first half of the year, the V's are making a grand re-entry this year, starting from the black/uni blue colorway in August and will culminate with the much sought after OG colorway - black/metallic silver and white/fire red-black - 2 days shy of Christmas. In between, a total of 8 colorway are introduced, in both OG and non-OG colorway, including my 'mark of independence' pair, the Grape's.
16 years have passed since the original Air Jordan V's were released; I am still buying and looking forward to all the releases. While the quality has since suffered tremendously; I am not buying them because of it and will not cry over how poor the quality of the shoes are. I am buying them because of the memories that are attached to them.
My stories and history with the Air Jordan's do not come from the technologies or ground breaking designs that came with it, but more of a personal perspective; for every Air Jordan's released, I have something momentous in my life to equate them with.
And at 18 and very much looking forward to what greatness I could accomplished in life, the V's was my companion at that time. And with all the ideals and promises of a great future, it is not surprising to know that the V's are one of my favorite J's of all time…